Racing Museum Hall of Fame
There's more to it than just beautiful horses. There are beautiful hats, interesting traditions (including an official drink), and lots of memorabilia and collectibles.
The Kentucky Derby Museum
For Derby history:
Check out the
Kentucky Derby Museum website
.
See the
Kentucky Derby Museum's photo albums
.
See the current
exhibits here
.
For 2015, the museum had vintage photos of celebrity attendees. The
"Stars of the Stands" exhibit focuses on how fame and celebrity transformed the Kentucky Derby into an iconic event.
Kentucky Derby Museum showed fun side of Derby in 2014's Horse Play Exhibit
In 2014, the
Kentucky Derby Museum
had a wonderful vintage horse race toy exhibit.
Note: the toy exhibit was only for 2014 - "
The museum has purchased a circa-1970's, coin-operated, Kentucky Derby-themed carousel ride to become a permanent mainstay of the museum for this exhibit."
Media images can be found here courtesy of Kentucky Derby Museum:
https://www.flickr.com/photos/77780824@N08/sets/72157642950705793/

Mint Julep
The Mint Julep has been the traditional beverage of Churchill Downs and the Kentucky Derby for nearly a century. Early Times Kentucky Whisky has been privileged and honored to be a part of that tradition. The Early Times Mint Julep Ready-to-Serve Cocktail has been "The Official Mint Julep of the Kentucky Derby" for more than 18 years.
How to Make a mint julep.
It's a fun tradition for ladies to wear big-brimmed flower and ribbon trimmed
hats at the Kentucky Derby.
Some designers specialize in over-the-top toppers. Read
"Crowning Glory: The Art of Kentucky Derby Hats".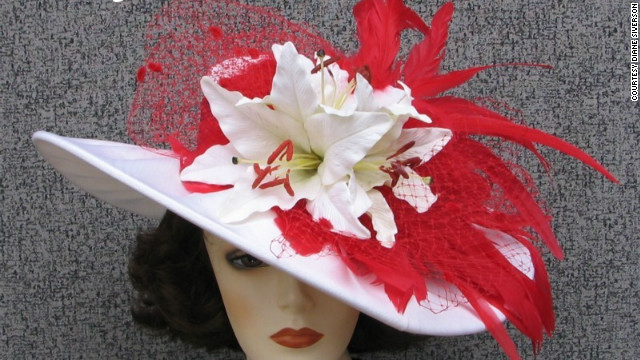 HORSE RACING BOOKS & DERBY HISTORY