It's Derby Time! The famous horse race is always on the first saturday in May, so this year it's on May 4, 2013.
Here's just a taste of Kentucky Derby history and lore. There's tons more info online. Get all the details:
There's more to it than just beautiful horses. There are beautiful hats, interesting traditions (including an official drink), and lots of memorabilia and collectibles.
Check out the
Kentucky Derby Museum website
.
Mint Julep
The Mint Julep has been the traditional beverage of Churchill Downs and the Kentucky Derby for nearly a century. Early Times Kentucky Whisky has been privileged and honored to be a part of that tradition. The Early Times Mint Julep Ready-to-Serve Cocktail has been "The Official Mint Julep of the Kentucky Derby" for more than 18 years.
How to Make a mint julep ›
From 'A Taste of Kentucky': "While the concept of serving mint juleps was not new, the development of the Mint Julep Glass came later.
Many people think that Kentucky Derby Mint Julep glasses started in 1938, but although the confusion is understandable, they did not. What happened in 1938 is that instead of serving their mint juleps in paper cups, Churchill Downs served them in tall water glasses and people kept stealing them!
So the following year in 1939 Churchill Downs created a promotional piece — the birth of the Kentucky Derby Mint Julep Glass — that people could purchase and keep as a souvenir of their visit to the Kentucky Derby.
Over the years mint julep glasses have gone through many designs and styles."
It's a fun tradition for ladies to wear big-brimmed flower and ribbon trimmed
hats at the Kentucky Derby.
Some designers specialize in over-the-top toppers. Read
"Crowning Glory: The Art of Kentucky Derby Hats".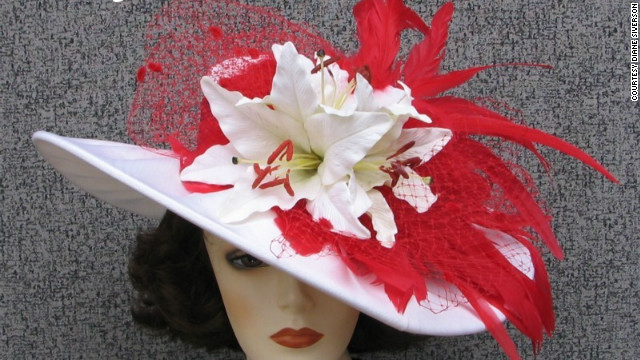 Believe it or not, this hat's relatively conservative.
HORSE RACING BOOKS & DERBY HISTORY
[Note: This post was updated for the May 4, 2013 race, so the race date in the photo up above is wrong.]


Some Kentucky Derby books from Amazon: