"Linda's and my move to Kentwood, Mich. provided the incentive and opportunity to explore the flea market, antiques mall and antiques show scene in the Northwest Territory. I have been in the field more in the last four months than I was in the previous 12. It has been an eye-opening experience.  ..."
________________________________________
Meet promoter Sally Schwartz of the Randolph Street Market show in Chicago.
_____________________________________
More good news from the Antique Trader:
"Dealer after dealer report the same story about this year's Brimfield antiques shows: All things industrial are hot, and all things traditional are cold. One dealer's blunt assessment of the antiques business remains unchanged: ..."
Killer Stuff and Tons of Money
And here's a fun summer read: 
"... Killer Stuff and Tons of Money: Seeking History and Hidden Gems in Flea-Market America (The Penguin Press), by Maureen Stanton: Curt Avery buys and
______________________________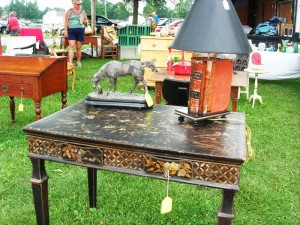 So now that you're excited to go to some antiques shows, here's some good advice.
" .. Summer is my favorite time of year for a couple of reasons: 1) the weather is warm (I am not a cold weather person); and 2) the outdoor antique and collectible shopping season is in full swing. There are garage sales on just about every street, outdoor flea markets are filled to capacity with vendor..."