I sold this pretty figurine via my online shop/website, Delightfully Vintage Shoppe, which is set up like a blog, with each new item being a post. I did a little research when I listed it, but now that it is sold, I will be deleting the post.
I realized that I should have put the info-post here in the first place, so that my hard work isn't for naught, and doesn't disappear. Lesson learned, that's what I will do in the future. Meanwhile, I will transfer the few bits of research that I already did, starting with this one.
_____________________________________
Most of the Pretty-Lady Cordey figurines and busts have scrolly curly Q's, applied roses and ruffles. They also have REAL LACE that was dipped in liquified clay. Delicate and easily chipped, but so pretty and unique.
Born in Lithuania, 1895; studied art in St. Petersburg; came to the United States in 1939; painted a mural at the New York World's Fair.

In 1942 he opened a studio in Trenton, N.J. called Cordey China Co. The company made giftware - figurines and busts with ornate applied flowers, ruffles and scrolls.
Around 1950 he also started his CYBIS STUDIO.

Cordey continued production until sometime in the mid 1950's.

The Cordey China Co. was sold. Cybis had already started his Cybis Studio, which is known for fine artworks, and it is still in business.

You may

visit the gallery and museum (link)

to view the collection of porcelains from Boleslaw Cybis' early Neo-Meissen rococo and papka styles.

Boleslaw Cybis died in 1957
______________________
More info from a short article by Sharon Payne (here).
"...

Although on rare occasions some items were not numbered or signed, the basic figure was cast both with numbers and the Cordey signature. The molded pieces were then individually decorated and each marked with its own impressed identification number as well as a mark to indicate the artist-decorator. Their numbering system began with 200 and in later years progressed into the 8000's ..."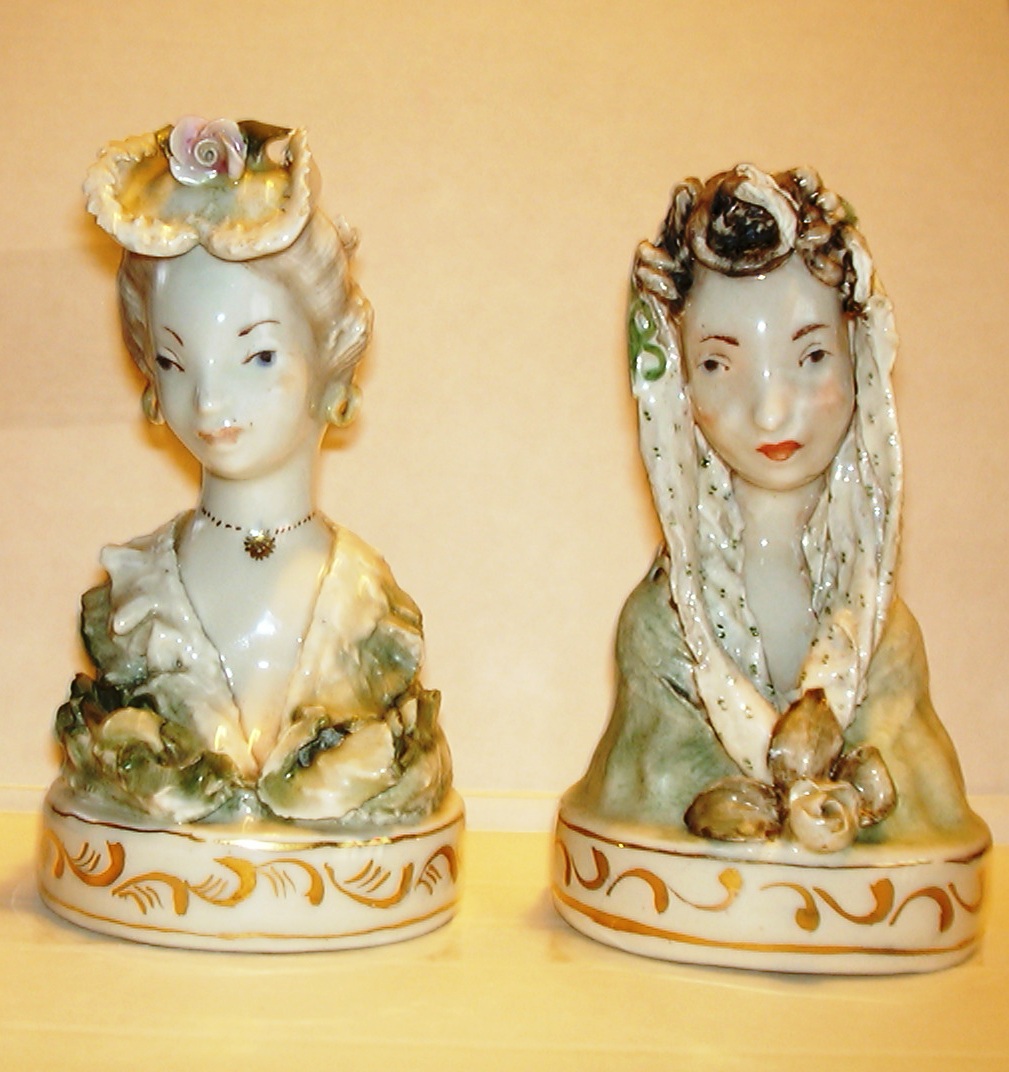 Above, a couple other Cordey busts, that

Worthpoint discussed here

.






See some

more Cordey busts on eBay

.




See Cybis/Cordey prices on kovels.com @

http://www.kovels.com/Price-Guide/Pottery-Porcelain/Cybis.html




Book on Amazon: Cybis: Porcelains That Fire the Imagination